Deyda Hydara was a renowned journalist, and co-founder and editor of The Point, one of the biggest newspapers in The Gambia. He was also a correspondent for both the AFP news agency and Reporters Without Borders for over 30 years. Hydara was a keen advocate of the freedom of the press in The Gambia and also a fierce critic of Yahya Jammeh's sustained efforts to curtail the media and journalists.
Just two days before Hydara's murder, he and other journalists had announced that they would challenge in court two repressive media laws that had been passed by the Gambian government. He had published an editorial denouncing the government's attacks on media freedom the day before his death.
On December 16, 2004, Hydara was gunned down in Banjul as he drove home from work. The government, which many suspected was involved, refused to seriously investigate his murder. His family and the world finally got to hear what happened to the veteran journalist in July 2019, when Lieutenant Malick Jatta, testifying before the Truth, Reconciliation and Reparations Commission, described how Hydara was chased down the streets of Banjul and executed. Jatta admitted that he took part in the assassination of the journalist, which he said was ordered by President Jammeh.
We spoke to Baba Hydara about his father.
What was Deyda Hydara passionate about?
He was passionate about his work. He mentored a lot of young journalists who subsequently became big names in The Gambia. I remember seeing him guide the journalists during my visits to The Point. He was also passionate about his family, and that is why he made sure that all his children acquired a good education.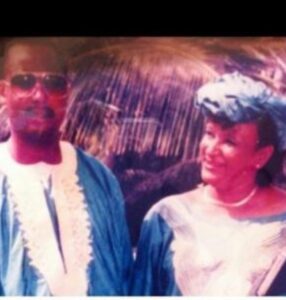 What are his achievements?
One of his biggest achievements is my mother – she was the force behind him. She was always a strong woman, ensuring that the family is together. His second achievement is The Point. He created a newspaper with a strong foundation. It has gone through difficult times, but it has survived and is still standing because of the strong foundation he ensured it was built on.
What were his hobbies?
Work. He was always working, even at home. He would be busy sending stories on the telex. He also loved reading and travelling.
What are your favourite memories with him?
My favourite memories are when I was young and our family would go on holiday. It was always a happy time because we would be together, laughing and joking. My family loves making jokes. During the Christmas and New Year holidays, we would go out to dinner at a hotel. I also remember how he pushed me to study French. My whole family studied at English schools. I was the only one who studied French, like him. I appreciated this many years later and I now understand what he was trying to do. It has helped me a lot.
How would you like people to remember him?
As one of the bravest Gambians that ever lived. He stood up against tyranny, against a dictator. He refused to bow to the demands of a dictator. To me, he is one of the bravest souls I have ever known. I am proud to say that he is my father. I want him to also be remembered as a good journalist. He was also the president of the Gambia Press Union. They did not have a lot of financial resources at the time, but he made sure that things were handled as they should be. I would want him to be remembered for his style of journalism. He created the Good Morning Mr President and Bites columns, which were like watchdogs of the Yahya Jammeh regime on issues such as corruption and nepotism.
What was Deyda Hydara proudest of?
He was proud of his family, his achievements, and being a Gambian. He was a very proud Gambian. I remember he used to tell us about his travels and the big meetings he attended, and how he always made sure that The Gambia was well represented. I can say that in the end he gave his life for The Gambia to ensure that the right thing was done. He refused to give in to a dictator.